Damp Proofing and Tanking Services in Plymouth, Devon and Cornwall

Property Maintenance South West Ltd offer a comprehensive service for Damp Proof surveys and treatments, Basement Waterproofing, Tanking, Condensation issues to new and existing clients within Plymouth, Devon and Cornwall.
Our Damp specialists use state of the art Sovereign Quantum Moisture Meters when carrying out surveys, which allow us to accurately diagnose damp issues so you, the customer will never pay for more remedial works than are required. 
With our Specialist service, Competitive prices and the option to privide insurance backed guarantees you can be sure you are in safe hands.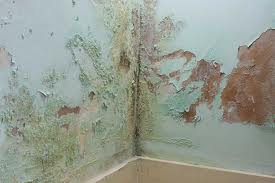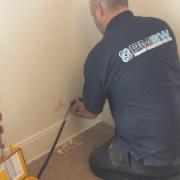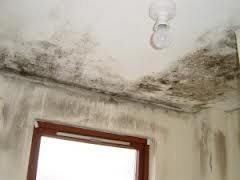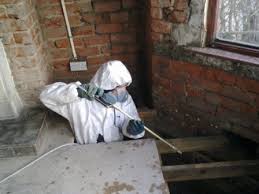 Our Damp Specialists are all trained by Sovereign, Sovereign's  reputation has been gained for the quality of its products and also for the support and care offered under the Sovereign Protection Scheme Guarantee. Since 1976 over half a million satisfied property owners are testimony to the effectiveness of the Scheme.
Another benefit of choosing PMSW is the fact that we have our own in-house Tradesmen including Carpenters, Electricians, Plumbers, Plasterers and decorators, so we can provide the complete service from start to finish, eliminating the problem of our Clients having various tradesman not turning up etc. Basically, we project manage every stage of the works using our own tradesmen to ensure the minimum of disruption for our Clients.
TANKING :

Tanking is a process of installing a barrier to above and below ground walls and floors to keep the ground water out, and the inside dry.
HEYDI TANKING SYSTEM.
Ideal for positive and negative waterproofing against dampness and ground water, as well as hydrostatic pressure for buildings and structures of all kinds, i.e. cellars, basement tanking, underground garages, pre-stressed and precast concrete units, swimming pools and drinking water tanks. Heydi is also installed as a damp-proof course between foundation slab and rising masonry.
The Sovereign Hey'di tanking system can be applied direct to all sound substrates. Both Heydi K11 and Hey'di special systems have been proved highly effective against extreme water pressures throughout the world.
For further information and specifications go to :
http://www.sovchem.co.uk/media/brochure/heyditanking.pdf
We only use products from Sovereign Chemicals Ltd, the respected name in the field of chemical products for the building and construction industry. The company is the acknowledged leader in the damp proofing field throughout the UK with over 2000 Approved Contractors.
Endorsement of the quality of Sovereign Chemicals Ltd products can be seen from the fact that the company was awarded the Royal Warrant in 1987 as a result of its building chemicals being used with great success in several Royal residences.
CAVITY DRAINAGE TANKING MEMBRANE.
We also install a preformed cavity drainage membrane for waterproofing walls and floors. The range includes dimpled waterproofing membranes for external walls in new build structures and internal tanking membranes for existing basements. Sovereign tanking membrane is a complete tanking system with all jointing strips and drainage pumps also available.
WE ALSO PROVIDE PROFESSIONAL TECHNICAL SUPPORT FOR CONVERTING
 BASEMENTS INTO AMAZING LIVING OR OFFICE SPACES.
For professional advice and technical information on converting and waterproofing existing basements please give us a call.
RADON BARRIERS.
Sovereign radon barrier coating is a ready for use specialist liquid applied membrane, the only such system that is BBA Approved as a radon barrier. It offers a simple continuous passive system to the full footprint of new builds producing basic radon protection and a waterproof membrane complying with requirement C2 and C4 of Schedule 1 of the Building Regulations 1991 for England and Wales. Our radon barrier also acts as a barrier to CO2, methane and water vapour barrier.
If you would like a Survey from a local, independant Company with an excellent reputation, please call us on 01752 424871 today, or call into either of our offices.
Damp Plymouth, Damp PROOF TREATMENTS Plymouth, Damp Proofing Devon, SOUTH WEST, PLYMOUTH, EXETER, TORQUAY, BRISTOL, TAVISTOCK, BRIXTON, YEALMPTON, NEWTON FERRERS, MODBURY, DEVON, CORNWALL.
TANKING TREATMENTS DEVON, SOUTH WEST, PLYMOUTH, EXETER, TORQUAY, BRISTOL, TAVISTOCK, BRIXTON, YEALMPTON, NEWTON FERRERS, MODBURY, DEVON, CORNWALL.
TIMBER TREATMENTS DEVON, SOUTH WEST, PLYMOUTH, EXETER, TORQUAY, BRISTOL, TAVISTOCK, BRIXTON, YEALMPTON, NEWTON FERRERS, MODBURY, DEVON, CORNWALL.